Echinacea is a popular natural medicine that has been used for hundreds of years by Native Americans and as a folk medicine throughout North America. The echinacea flower is a perennial that grows in the United States and Southern Canada and is widespread in Missouri, Kansas, Oklahoma, and Arkansas. There are nine species of echinacea flowers in all. The flower is a member of the daisy family and thrives in open spaces and rocky, upturned soil. The plant can grow to five feet and is best known for its purple cone-shaped flower.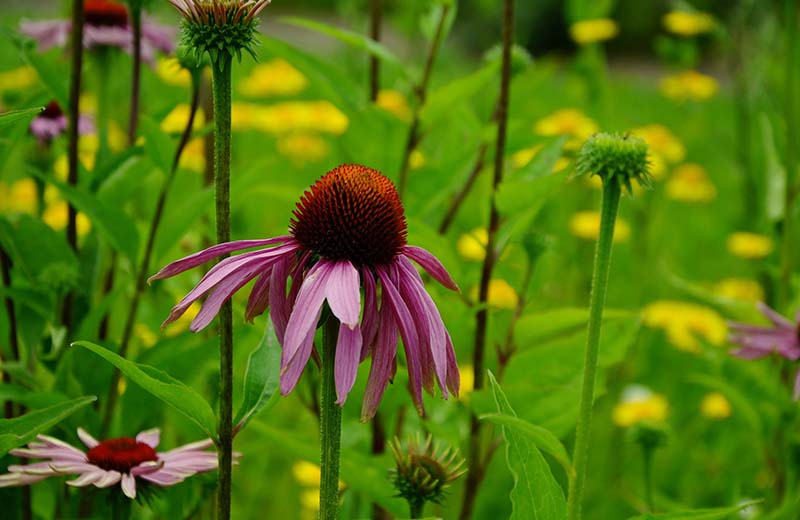 The flower is known to have many health benefits for a variety of ailments. You can buy it in many forms from your herbalist or health food store. The entire plant is beneficial – the plant can be made into a juice as a health elixir, while the flower and root can be used fresh or dried as a tea or in a powdered form. Echinacea was used by the Native Americans to treat a wide variety of health issues such as colds, toothaches, snake bites, and stomach problems. Today, it's a popular herb that is used as an immune system booster and health enhancer. If you're wondering how echinacea can help you, read on to see how it can enhance your wellbeing.
1. Boosts Immune System
Do you feel like you're constantly getting sick or are you exposed to a large cross-section of the public and want to shield yourself from catching a cold? Most of us live in areas where it's hard to avoid contact with germs; whether you ride public transportation, have kids in school, or shop in a grocery store it's hard to limit your exposure. That's where echinacea can help you. Studies have shown that echinacea can help stave off a cold or cut your recovery time in half by producing more white cells in your blood. Medical professionals suggest taking echinacea as soon as you feel the symptoms of a cold.
[/nextpage] [nextpage title="Next" ]
2. Reduces Redness and Swelling
One of the side effects of a cold or allergy is redness and swelling around the eyes and nose. Echinacea is an anti-inflammatory and can help reduce puffiness due to colds, allergies, and other skin irritations. It can be used as a topical lotion or astringent to help heal irritations of the skin like sunburns, bug bites, and rashes. The astringent effect helps skin cells shrink and reduce puffy skin and has an analgesic effect on the skin that takes away the pain. The herb can help promote skin cell growth, which helps heal wounds faster and lessens the chance of getting scar tissue.
[/nextpage] [nextpage title="Next" ]
3. Promotes The Health Cells
You know now that echinacea boosts your immune system, but how does it do it? Echinacea contains complex compounds like chicoric acid and caftaric acid. The plant also contains flavonoids, polysaccharides, volatile oils, and glycoproteins. The nutrient makeup of echinacea can help your body to build stronger cells, which in turn will produce more white blood cells and keep your system strong. When you have a healthy immune system it's possible to stop the growth of cancer cells and to lower your cancer risks too. Using echinacea on a regular basis supports the building blocks of healthy cell growth and that will make your body strong.
[/nextpage] [nextpage title="Next" ]
4. Facilitates Oxygen Transport
Another way that echinacea promotes healthy body functions is by increasing the production of erythropoietin in your bone marrow. Erythropoietin is a hormone that's secreted by your kidneys in order to produce more red blood cells when your body tissues start to lose oxygen. When your body produces healthy levels of this hormone it transports oxygen more efficiently. When your body doesn't get enough oxygen, you may experience side effects such as dizziness, confusion, chest pain, and headaches. These side effects can cause long-term health problems. Echinacea can help your circulatory and respiratory systems by supporting healthy transport of oxygen throughout your body.
[/nextpage] [nextpage title="Next" ]
5. Supports Oral Health
Echinacea is great for your teeth and gums too because it helps fight bacteria and reduces the risk of gum infections. Gingivitis is a common problem that is caused bacteria and plaque. It inflames the gum line and often makes the gums bleed as a result. Echinacea not only kills the harmful bacteria but also reduces the swelling so that your gums can get back to normal. It can also help fight candida, also known as oral thrush. Candida is an overgrowth of yeast that can cause your tongue to have a pasty appearance. Echinacea helps boost your white blood cells to help fight the overgrowth of flora in your system.
[/nextpage] [nextpage title="Next" ]
6. Alleviates Physical Discomfort
The Native Americans can be credited for using echinacea as a great way to relieve pain. The herb is a versatile analgesic and can be used in many forms for pain relief. It can be sipped as a tea or taken as a tincture for stomach pain, cramps and nausea. When used as a salve or lotion, the herb can reduce the pain and swelling of bug bites, wounds, measles, snake bites, and burns. The root can be ground up into a paste and used to diminish toothaches and canker sores. Echinacea is a popular remedy for sore throats and other cold symptoms.
[/nextpage] [nextpage title="Next" ]
7. Encourages Normal Skin
You know that echinacea can reduce the pain of red and swollen skin, but it also works great as a lotion to add to your nightly cleansing routine. If you suffer from acne echinacea can help by decreasing the swelling and redness, making your pimples less noticeable. It can also remove the bacteria on your skin that's causing the acne in the first place. Echinacea can also improve the look of your skin by decreasing wrinkles, age spots, and scars. It can help heal and sooth sunburned skin, rashes, and other skin diseases like psoriasis or eczema. You can use it as an astringent, powder, or lotion for best results.
[/nextpage] [nextpage title="Next" ]
8. Promotes Upper Respiratory
Echinacea is a popular herbal remedy for combating the symptoms of a cold. One reason is that it is an anti-inflammatory and helps decrease swelling within the nasal cavity. This powerful herb also battles bacterial infections by increasing the production of white blood cells in your body. It's also used to help reduce the effects of asthma, croup, tuberculosis, whooping cough, and acute sinusitis. Echinacea's ability to fight infections and shrink swollen tissues in the body makes it an effective choice when it comes to an alternative medicine. If you're suffering from a head cold or a chronic respiratory condition, echinacea will give you relief.
[/nextpage] [nextpage title="Next" ]
9. Provides Antioxidants
Echinacea has powerful antioxidant properties that can keep your body strong and healthy. Antioxidants are found in whole foods such as strawberries, tomatoes, kale, and of course, echinacea. Our cells contain free radicals, which are the waste products contained in our cells. Antioxidants act as the cleaning mechanism to remove these toxins and create a healthy environment in our cell structures. Without antioxidants our bodies would be polluted and sick. Taking echinacea regularly encourages healthy cells by removing the antioxidants. Echinacea naturally contains phenols, an enzyme that helps protect plant cell structures. Phenols are known for their antioxidant properties and can help give your cells a fighting chance for health.
[/nextpage] [nextpage title="Next" ]
10. Supports Normal Aging
Now you know about all the important benefits that echinacea has to offer, but did you know that it may help to extend your life too? Researchers have found that mice who were treated with echinacea lived longer than the average mouse. Considering that echinacea helps to fight infections, reduces inflammation, strengthens the immune system, and increases respiratory functions, it's not surprising that it could also add years to your life. Taking echinacea can help reduce the risk of age-related injuries because of its anti-inflammatory properties. It may also help combat bacterial infections that put older people at risk from serious respiratory infections.
[/nextpage]
[nextpage title="Next" ]