An anterior cruciate ligament injury, aka ACL injury, happens when the ligament is either stretched, partially torn, or completely torn. The ACL is one of the major ligaments in the knee. It connects your thighbone (femur bone) to your shinbone (tibia) and stabilizes your knee joint. ACL injuries are common in athletes who play sports that involve sudden stops, jumping, or quick changes in direction. This includes sports like football, soccer, skiing, basketball, volleyball, and gymnastics. Symptoms of an ACL injury include knee instability, pain, and a loud pop at the time of injury. Oftentimes, other parts of the knee, like cartilage and surrounding ligaments, are damaged as well. If you have suffered an ACL injury, it is best to seek medical attention sooner than later.
The knee joint is very complex, so prompt and accurate diagnosis is necessary for proper treatment. A physical examination is performed to check for tenderness around the knee, range of motion, and joint looseness. Depending on the results from the physical examination of the knee, an MRI may be necessary as well. Treatment will generally include rest and rehabilitation exercises to strengthen and stabilize the knee. A severe injury can also require surgery to replace the torn ligament prior to rehabilitation.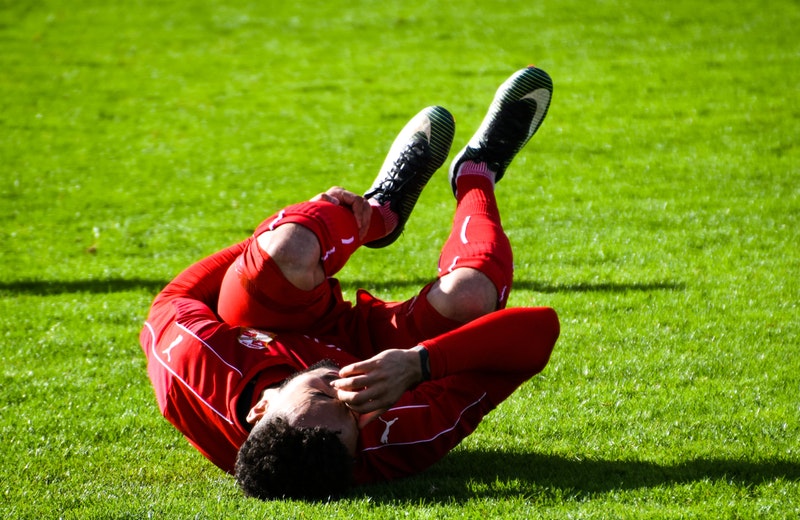 1. Popping Sound
You've probably heard a popping sound in your knee before. Maybe it was when you bent down to pick something up or to sit on the floor. A popping sound in the knee is fairly common and often happens without any pain associated to it. If there is no pain with the popping sound, that's a good sign. If you do experience pain in your knee when the popping sound happens, a physician may need to examine your knee to determine what caused it to pop. When the ACL gets over stretched it will result in either a partial tear or a full tear. A full ACL tear will make a popping sound when the injury happens.
This injury can be a result of a blow to the side of the knee, a sudden twisting of the knee, or when the leg bends too far backwards. Approximately 50% of ACL tears result in a popping sound that is followed with intense pain and immediate swelling. When you have your physician look at your knee for signs of injury, remember to mention the popping noise you heard as well as any pain that resulted from it. That information can help them when diagnosing the injury.
[/nextpage] [nextpage title="Next" ]
2. Knee Swelling
When an ACL Injury occurs, there will be a significant amount of swelling within six hours of the injury happening. The swelling may also continue to increase for the next two days, before it eventually begins to subside. When your physician examines your knee to diagnose the injury, he/she will compare the injured knee to the non-injured knee. Pressure will be applied in different directions to the knee to see which parts stay in their proper position and if there is any restricted movement. If the swelling makes it too difficult to diagnose the tear, your physician may need to run further tests like x-rays, MRI's, or arthroscopy.
[/nextpage] [nextpage title="Next" ]
3. Deep Pain in Knee
The deep pain in knee and tenderness in the joint area can be very intense, especially when trying to put weight on that injured leg. It's important to take it easy and not try to walk on the injured leg, as it will cause swelling and pain to worsen. Immediately after the ACL injury, the RICE method needs to be started. The RICE acronym means Rest, Icing (15-20 minutes every 2 hours), Compression, and Elevation. This helps to reduce the swelling and deep pain in knee. Your doctor may recommend wearing a brace and using crutches to prevent weight from being applied to your knee.
[/nextpage] [nextpage title="Next" ]
4. Unstable Knee
Along with a popping sound and deep pain in knee, an ACL injury will also result in instability in the knee. This means that the ligament in the knee can no longer stabilize the joint to keep the tibia from sliding forward. The instability causes a loss in range of motion and makes the knee feel uncomfortable when walking. There is a sensation in the knee that feels unstable, like it will give out when you are trying to walk. After the injury happens, you are unable to continue doing the activity that you were doing at the time of the injury.
[/nextpage] [nextpage title="Next" ]
5. Restricted Movement
Because the ligament is injured in an ACL injury, you will have trouble moving your knee from side to side. Back and forth motions will be restricted as well. The injured ACL is unable to control the knees movement, and without proper treatment the bones will begin to rub against each other. This is known as Chronic ACL Deficiency. This bone on bone movement can potentially lead to damaged cartilage, and eventually lead to osteoarthritis. So it is important to have your physician diagnose your injury as soon as possible to start proper treatment and possibly prevent any further damage.
[/nextpage] [nextpage title="Next" ]
6. Warm to Touch
If you think you have an ACL tear based on the symptoms you are feeling, check to see if your knee is warmer to the touch than usual. When an ACL tear happens, your knee will become warm to the touch and will also turn red. This happens because of bleeding that occurs within the knee joint. Your body's temperature will increase at the spot the injury occurred in order to prevent infection, as bacteria generally cannot thrive in a warm environment. Rupturing of the blood vessels will cause excess blood in the joint, which also causes swelling along with the warmth.
[/nextpage] [nextpage title="Next" ]
7. Bruising
An ACL injury can also cause bone bruising. When the anterior cruciate ligament tears, the bones shift on each other. This shift results in a bone bruise, which is common in an ACL injury. The bone bruising itself will typically heal itself over time, but it can hinder the healing process of the injury overall. Regardless, medical attention is necessary when you suffer an ACL tear. Bone contusions (bruises) will show up on an MRI as edema (increased fluid) inside the bone marrow. Extensive bone bruising increases the likelihood of there being injuries to other parts of the knee as well.
[/nextpage]
[nextpage title="Next" ]