Sarcopenia is an age-related disease that leads to the loss of skeletal muscle mass and strength. Although a gradual decrease in muscle is normal for adults starting in their fourth decade of life, weakness and functional decline can greatly hinder mobility and quality of life at very old ages. It is not entirely clear what triggers sarcopenia, but several factors are thought to contribute to the muscular degeneration process.
Reduced overall caloric intake, specifically decreased protein consumption, or poor nutrition in general can lead to less muscle mass retention and production. Lack of exercise and an overall increase in the prevalence of sedentary lifestyles also lead to higher levels of sarcopenia in the elderly population.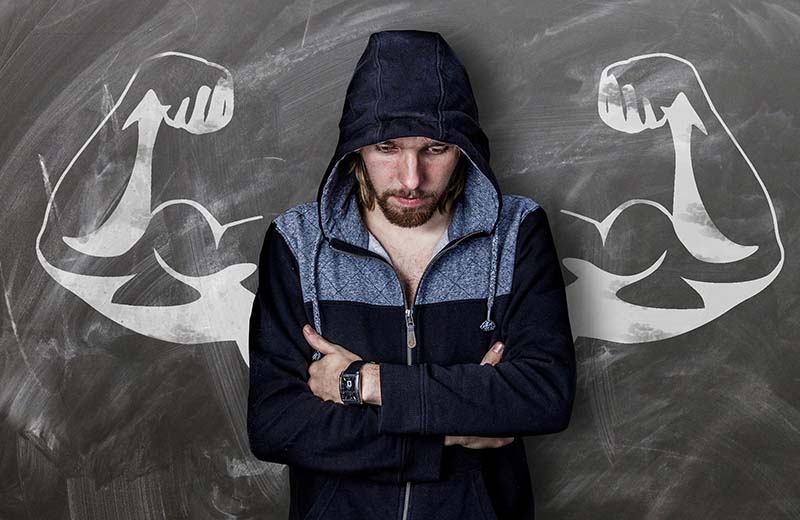 Natural metabolic and hormonal changes associated with the aging process also play their role. Sarcopenia is correlated with the failed activation of satellite cells, which normally fuse into muscle fibers after exercise or injury to restore function. Declining levels of hormones like testosterone, growth hormone, and insulin-like growth factor 1 along with elevated inflammatory activity result in a formidable combination of decreased muscle production and accelerated muscular degradation.
The seven symptoms listed below are most commonly seen in people with sarcopenia. Although it is so intrinsically tied to the natural process of aging, sarcopenia is hardly untreatable or an inevitable sentence to a debilitated life at an older age. The key to counteracting the most severe effects involves relatively simple measures like maintaining an active lifestyle with plenty of strength and resistance exercise bolstered by good nutritional habits.
1. Decrease In Muscle Size
Diagnosis with sarcopenia is mostly determined by a decrease in muscle size over time. The actual amount of muscle loss will vary from person to person, but it is the rate at which the muscle atrophies that is important in formally attributing muscle loss to something other than just general aging. Notably, this reduction of muscle is characterized by a decrease in both the number of muscle fibers and the individual size of each fiber determined by its cross-sectional area. Sarcopenia is associated with a specific decrease in size and number of type II muscle fibers while changes in the slow-twitch type I fibers remain within the normal range seen with natural aging. Type II is the fast-twitch muscle fiber that generally fatigues faster but is vital for actions requiring more powerful bursts of energy like sudden movements or large shifts in weight.
Muscle atrophy is also caused by fat cells infiltrating and replacing muscle fibers, excess fibrous tissue generation during muscle repair, oxidative stress, metabolic changes, and degeneration of junctions between motor neurons and muscle fibers that usually enable contractions and general muscle function. All of this muscular atrophy contributes significantly to many of the other symptoms seen among those with sarcopenia.
[/nextpage] [nextpage title="Next" ]
2. Weakness
With all the decrease in muscle, it should come as no surprise that weakness is another hallmark symptom of sarcopenia. This reduction in physical strength along with the increasing concentration of non-functional, non-contractile material within the skeletal muscle is widely observed to increase among both genders with age, particularly after age 70. Often, this muscle weakness is more notable primarily in the lower body where it leads to difficulty performing regular daily activities that make extensive use of the lower back and legs. This includes even basic tasks such as walking or getting up from a seated or sleeping position.
[/nextpage] [nextpage title="Next" ]
3. Loss Of Endurance
As a result of less muscle and general weakness, the ability to perform tasks for prolonged periods of time diminishes. Shorter or less frequent periods of physical activity, particularly strengthening exercises that make use of free weights or some type of resistance, can lead to even more muscle loss and cause a downward spiral that makes sarcopenia worse. If proper nutrition and exercise regimens are established, however, this cycle can be broken and the more debilitating effects of sarcopenia can be delayed or avoided completely. Endurance can be regained to a large degree if lifestyle and dietary changes are made early.
[/nextpage] [nextpage title="Next" ]
4. Poor Balance
The changes that occur in the composition of muscle fibers throughout the body make maintaining balance and regaining it after it has been thrown off significantly more challenging. This is especially the case for those afflicted with sarcopenia since the targeted weakness in the lower half of the body increases the risk of falls and other related injuries by sapping strength from the legs and core. Adequate exercise that focuses on this problem lower half of the body and good nutrition can help prevent poor balance from occurring by keeping legs strong and the mind and body alert to its surroundings.
[/nextpage] [nextpage title="Next" ]
5. Trouble Climbing Stairs
Going up the stairs is an example of an activity that would rely mostly on the fast-twitch type II muscle fibers that are responsible for providing short bursts of a large amount of energy to perform a quick action. As type II muscle fibers decrease in number and size with age, previously relatively simple tasks like going up the stairs or rising from chairs become much more daunting and taxing on the body. Loss of the specific muscle power necessary for these actions can greatly limit mobility and independence, but exercise and protein-rich nutrition can help combat some of the negative effects.
[/nextpage] [nextpage title="Next" ]
6. Loss Of Appetite
Appetites tend to shrink as people grow older due to several reasons including increased inflammatory activity and hormone signals for satiety being released to suppress hunger more quickly after beginning a meal than before. For those with sarcopenia, less muscle mass also means less nutritional intake needs. This effectively creates a vicious cycle in which decreased muscle mass and a smaller appetite fuel each other unless it is specifically counteracted. Even with a modest appetite, simply eating the proper foods with the right nutrients and plenty of protein can help maintain muscle mass and strength when coupled with some light exercise.
[/nextpage] [nextpage title="Next" ]
7. Inability To Convert Nutrients
The process of synthesizing protein is influenced by lots of natural changes occurring in the body at increasing ages. Once again, a decrease in expression of hormonal factors reduces the amount of protein synthesis happening in the body. Additionally, greater expression of inflammatory and endocrine factors further upset the protein balance by causing more protein degradation. Although protein intake and exercise are still the best ways to counteract sarcopenia, this inability to convert nutrients efficiently undermines those solutions at an internal level. Hormone therapies are being explored as treatments for more severe cases of sarcopenia, but more research must be done.
[/nextpage]
[nextpage title="Next" ]