Aortic stenosis is a heart condition that occurs when the aortic valve of the heart is narrowed, stiffened, or otherwise cannot pass blood as easily. This disorder can have a variety of serious effects because this valve is where oxygenated blood passes into the aorta. The aorta supplies the arteries that in turn supply the body and brain. When the aortic valve is compromised, your heart simply cannot pump blood out at the same rate that it did before. In addition, the work of pumping blood against a stiffened or closed valve can do damage to the left ventricle of the heart, causing an enlarged heart and other issues. Blood clots also can form on the stiffened valve, leading to strokes or cardiac arrest.
Aortic stenosis can be caused by a congenital defect, by build up on the aortic valve, or even by rheumatic fever. It is easily treated when caught early. However, it can be fatal if left untreated. It is important for people to know the signs of aortic aortic stenosis so they can get medical help before permanent damage is done. If you or a loved one notice any of the following right symptoms of aortic stenosis, it is important to get immediate medical care.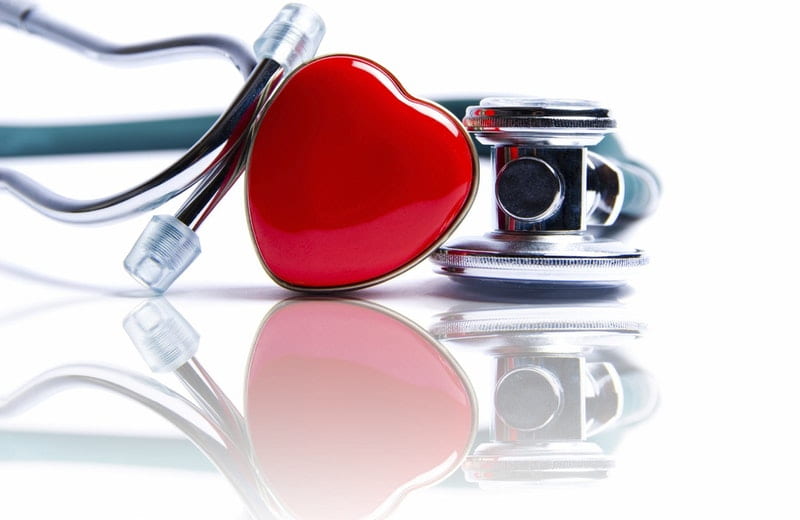 1. Fainting
Fainting, also called syncope or loss of consciousness, occurs when the brain loses blood supply for even a short period of time. This causes people to feel dizzy and suddenly pass out. Fainting can be very serious because people can injure themselves when they fall to the ground. They can also get into an accident when they lose consciousness. While there are a variety of medical problems that can cause fainting, it should always be treated as a medical emergency.
When the brain is not getting the blood and oxygen supply that it requires, it cuts back on brain activity. This means stopping all unnecessary processes, including the simple act of being conscious. While this protects the brain from injuries due to low oxygen, it is a red flag. Fainting can occur in aortic stenosis because not enough blood can be pumped past the compromised valve. This is especially true when people are being active or under stress, when the rest of the body has high oxygen demand. Fainting also can occur if a blood clot on the valve breaks lose and travels to the brain, causing a stroke. It is important to call an ambulance and have a person immediately medically evaluated if they faint.
[/nextpage] [nextpage title="Next" ]
2. Fatigue
Many people in the modern world feel fatigued. However, people with aortic stenosis will feel especially so. They will feel fatigued even when they get plenty of rest and are taking it easy. They may become so exhausted that they cannot complete normal activities much of the time. The most common form of fatigue in this illness is severe fatigue with exertion. A heart with this disorder has to work hard just to provide a minimal blood supply. It cannot keep up with the extra demand that comes from even mild exercise. While fatigue is not a medical emergency, you should discuss it with your primary care provider so they can find the cause.
[/nextpage] [nextpage title="Next" ]
3. Inability to Exercise
As we grow older, we lose stamina. We cannot exercise as hard or as long. However, even elderly people in good health can exercise moderately. If a person develops a total inability to exercise over a short period of time such as several months, this is a cause for concern.
When you exercise, your cells metabolize nutrients more quickly. This means an increased oxygen demand. If this demand for increased oxygen is not met due to a narrowed aortic valve, the muscle will simply stop working. People with moderate to advanced aortic stenosis cannot tolerate most forms of exercise, even a brisk walk. Their valve is too narrowed to give muscles the blood that they need for this kind of activity.
[/nextpage] [nextpage title="Next" ]
4. Lightheadedness
Many people feel lightheaded when they are hungry, dehydrated, or when they stand up too quickly. This is almost always due to a loss of blood supply to the brain, often from low blood pressure. However, people with aortic stenosis can have normal or even high blood pressure readings while having not enough blood reach their brain. Their valve simply is not passing enough blood to meet the brain's needs. If you feel lightheaded, you should sit with your head at or below the level of your knees so gravity increases the blood pressure to your brain. Once the lightheadedness has passed, you should call your doctor.
[/nextpage] [nextpage title="Next" ]
5. Heart Murmur
A rusty or sticky door hinge will creak and make noise when it is opened. A stenotic aortic valve also will make noise. Unusual heart noises are called heart murmurs. While you cannot hear this noise with your ears, your doctor can hear with a stethoscope. In aortic stenosis, the second half of your heartbeat, which is called the S2 sound, will be louder than normal. There also may be an "ejection click", or clicking noise, when the stiffened valve snaps open. An experienced physician will usually be able to make this diagnosis simply by listening to the distinct heart murmur that it causes.
[/nextpage] [nextpage title="Next" ]
6. Enlarged Heart
Aortic stenosis can cause an enlarged heart in several ways. First, the heart has to work harder to push blood out of a stiffened valve. This can cause excessive growth of the heart muscle in the area of the valve, which is called left ventricular hypertrophy. In addition, the heart chambers can become stretched out from blood left behind that cannot be pumped passed the stiff valve, which is called dilated cardiomyopathy. Both of these factors can lead to an enlarged heart, which in turn can cause fatigue, ankle swelling, palpitations, and a variety of other unsettling symptoms. Your doctor can see on x-ray, CT scan, and other imaging if your heart is enlarged.
[/nextpage] [nextpage title="Next" ]
7. Chest Tightness
Aortic stenosis is one of several cardiac problems that can cause chest tightness. Many people also describe this symptom as chest pressure, or even chest pain. Regardless of the underlying symptom, chest tightness is always a medical emergency. Chest tightness usually indicates that the heart itself is not getting adequate blood supply. This can be from the stiffened valve, hypertrophy resulting from the stiffened valve, or a variety of other reasons. If your heart is not getting enough blood supply, the cells may begin to die, which is called a heart attack. This permanent damage can often be prevented with prompt treatment.
[/nextpage] [nextpage title="Next" ]
8. Shortness of Breath
When your heart cannot effectively move blood through a valve, the fluid can begin to back up. When this fluid backs up into the lungs, the result is shortness of breath, or dyspnea. People with aortic stenosis often report that this symptom is worse when they lie down (positional dyspnea) or when they exercise (exertional dyspnea). There are many things that can cause this symptom, from a common cold to heart failure. It is important to have a doctor examine you if you have this symptom regularly or if you notice it suddenly gets worse, to rule out serious and life-threatening causes such as aortic stenosis.
[/nextpage]
[nextpage title="Next" ]