The Zika virus infection is caused by mosquitoes that carry the Aedes genus. The virus was originally discovered in Africa and has since spread to other areas of the world. The Zika virus has been dominant in Africa since the 1950s and is transmitted through mosquito bites, intercourse, or from mother to fetus. It is especially dangerous for those who are pregnant or plan to be pregnant. There are many different types of symptoms that accompany people who have been infected with the virus.
Some individuals may experience only one symptom while others may experience all of them. There are a select few who may never develop any symptoms. If you experience any of the following symptoms and have contracted Zika, make sure you get plenty of rest, stay hydrated and take pain relievers as needed. There is currently no vaccine that is available to prevent the Zika Virus, however, caution should always be taken when there is a risk of contraction.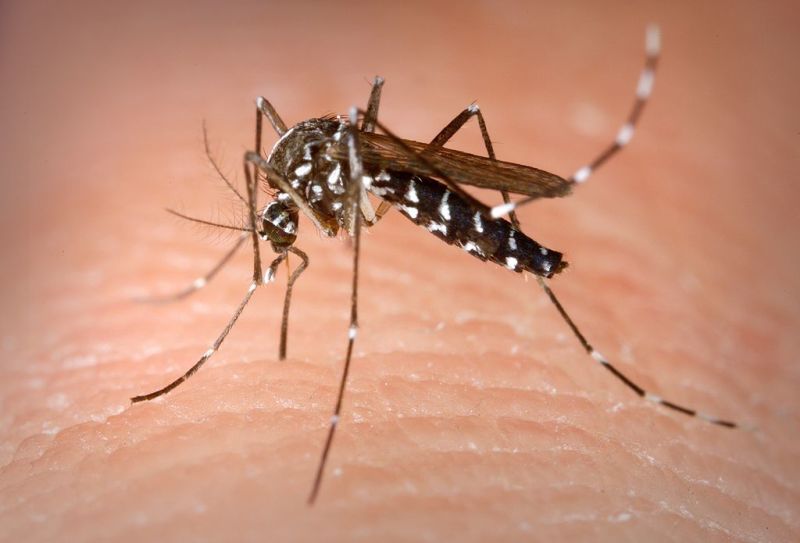 1. Fever
Those who are infected with the Zika virus may experience a low-grade fever. The fever generally arises within 3-12 days of initial exposure. It's important to understand that each patient and each case is different, but the fever is typically mild and does not exceed 101 degrees Fahrenheit. You may experience chills in addition to the fever, however, most symptoms should begin to decrease within 4-7 days. To control the symptoms, it's recommended to use over-the-counter medications.
[/nextpage] [nextpage title="Next" ]
2. Rash
Some people will experience a rash with the diagnosis of Zika. The rash is generally described as having small, red bumps that may be tingly and itchy. Some may experience irritated skin without bumps. The rash can develop anywhere, but most cases report that it stays in the trunk area before spreading to the face, arms and legs. As the virus runs its course, the rash will eventually begin to diminish.
Topical anti-itch creams may be used to help alleviate discomfort. Anti-histamines can also be used in addition to creams to help control the irritation.
[/nextpage] [nextpage title="Next" ]
3. Red Eyes
The Zika Virus can also cause conjunctivitis, which results in the eyes becoming inflamed and irritated. The conjunctivitis appears on the sclera (outer white layer of the eyeball) causing it to become pink or red. Discomfort may be experienced on the eyelid as well, and may produce a watery discharge or milky discharge. You may experience red eyes in one or both eyes.
Since conjunctivitis is highly contagious, it's important to avoid contact with others and keep your hands washed always. If you experience red irritated eyes while infected with the Zika virus, it will typically resolve on its own. You can utilize eye drops to help relieve some of the discomforts or check with your physician for other treatments.
[/nextpage] [nextpage title="Next" ]
4. Joint Pain
Some people may experience joint pain when infected with the virus. Many people complain of joint pain within the small joints of their hands and feet. Joint pain may be the very first symptom that appears and the very last to go away. Many opt to take pain medications and rest to overcome the symptoms. Some may experience joint pain & uneasiness in other areas of the body aside from the small joints.
Some people report body aches and increased muscle pain, especially if their immune system is already compromised. It's strongly advised that you consult your physician for recommended medications to help alleviate the pain.
[/nextpage] [nextpage title="Next" ]
5. Headache
Many may experience an onset and persistent presence of headaches during the virus. Some report different areas where a headache may reside such as behind the eyes or in the lower back of the head. Different forms of headaches may present themselves with sharp, shooting pains, while others may experience more of a dull, throbbing pain.
Over-the-counter medications can be taken to help relieve the pain experienced. If symptoms persist, you may want to consult your doctor for further instructions.
[/nextpage] [nextpage title="Next" ]
6. Vomiting
Stomach discomfort & uneasiness can be caused by the virus as well. This could result in vomiting and nausea. If you experience vomiting, it's imperative that you stay hydrated by continuing to drink fluids. If you become dehydrated during the onset of the virus, your recovery could be delayed and you could develop other symptoms.
If vomiting occurs for more than two days seek medical assistance. Your physician can prescribe an anti-nausea medication to help alleviate the symptoms so you can regain your strength and continue your road to recovery.
[/nextpage] [nextpage title="Next" ]
7. Loss of Appetite
Those who are suffering from the virus may experience a loss of appetite. It's important to try and maintain a healthy and well-balanced diet to regain strength and mobility. If your regular healthy diet is out of the question, a bland diet of rice, crackers or broth is recommended.
It's also very important to ensure that you're getting enough liquids to stay hydrated. The loss of appetite shouldn't last more than a week. If problems persist longer than expected, contact your healthcare provider to discuss other options.
[/nextpage] [nextpage title="Next" ]
8. No Symptoms
Often, many people may experience no symptoms or signs while infected with the virus. At times, they may experience slight symptoms to a very mild degree. Many don't seek medical help because they have no idea that they have the virus. If you've been exposed to the virus or have been traveling to parts of the country where it has been prominent, it's important that you get tested to make sure that you have not contracted the virus.
If you are pregnant or plan to be pregnant in the future, it's necessary to get tested to make sure you don't have it and that it cannot be passed to the fetus. The virus is not life-threatening and generally does not require hospitalization, however, certain health measures should be taken if one should experience any signs of exposure.
[/nextpage]
[nextpage title="Next" ]