If you've been contemplating tooth restoration, especially if you have missing teeth, you've probably found yourself deciding between a dental bridge or dental implants. If so, you're not alone; these dental appliances are the most common choices for those seeking to restore the appearance and functionality of their teeth. Not surprisingly, those who are unsatisfied with the appearance of their teeth tend to harbor feelings of insecurity, and this insecurity has encroached on their professional and personal lives. If you have settled on dental implants, you obviously recognize that they are a preferred choice for those seeking a restoration method that closely resembles natural teeth, both in form and function.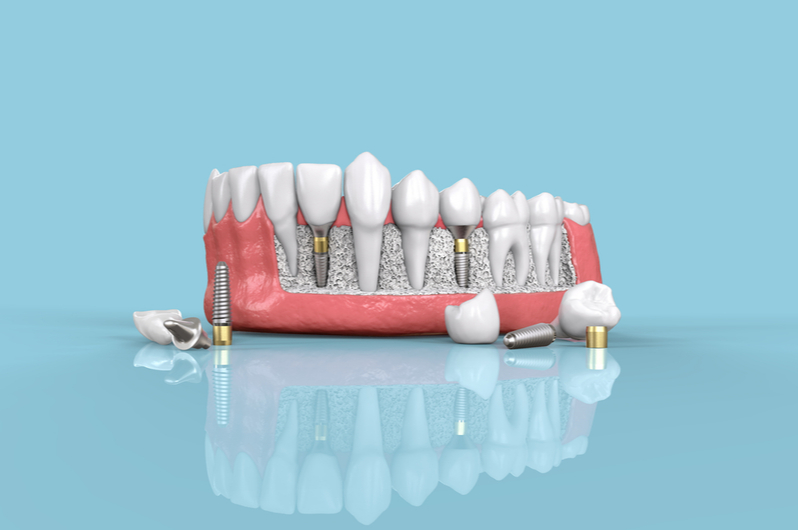 In fact, according to an article in forbes.com, 28% of Americans admit that the quality of their teeth has kept them from going on job interviews. Also, otherwise social individuals have admitted to scaling back their social activities as a result of their dental problems. Fortunately, advances in modern dentistry have made it possible to resolve the dental problems that have kept us from living the lives that we truly want to live. That being said, most people will naturally want to know about the costs associated with restoring their teeth, especially with respect to dental implant costs.
Average Costs of Dental Implants
When it comes to dental implant pricing, the average costs can range from $3,000 to $4,500; bear in mind, however, that this is an average, there are several variables that can either increase or decrease these costs. For example, if you have multiple missing teeth, you may need additional abutments (connectors that holds the dental implant in place), which will increase your overall cost. Conversely, if you're only missing one tooth, for example, your cost may be lower since you will only need one abutment and one dental crown.
Single Tooth Implant Costs
The cost of dental implants is dependent on how many you have to get. A single tooth implant can range in cost from $1000 to $3000 but the abutment and crown that would need to be performed would add an additional cost of $500 to $3000.
Full Mouth Dental Implant Costs
The costs for full mouth dental implants are considerably higher. The average cost out of pocket for full mouth dental implants can easily reach as high as $34,000. Due to this, it is best to see what you're dental insurance can cover first before committing to a full mouth dental implant procedure. There are dental discount programs that can be used to help reduce the costs. Some of these dental discount programs include grant programs, Care Plus, and Care Free Dental.
Some happy dental implant patients have found that they are able to get dental implants for as little as $350. With insurance coverage and great dental office discounts, it is not out of reach to get dental implants for an affordable price. Read further to find out more about dental implants cost and discounts you could receive.
Before we delve into the cost factor, let's talk about finding the right dental practitioner, first; after all, you are literally placing health and well-being in their hands. If you're not familiar with aaid-implant.org, it's an online resource for finding experienced and credentialed dental implant dentists in your area. These are practitioners who are well-versed in dental implants, and they can make sure that you're a good fit for this type of dental restoration.
Nationwide Dental Implant Providers
There are actual nationwide dental implant brand providers if you are not wanting to go to a local brand. They provide dental implant services at locations all over the country. You can visit these resources below to find their locations near you.
Finding Affordable Dental Implants
If you're seriously considering dental implants, the single best thing you can do after finding a qualified practitioner is to ask questions. For example, you should inquire whether or not the final price encompasses all aspects of the dental implant. Dental implants can include soft tissue treatment, the cost of the crown, extractions, bone augmentation, and much more. So, asking the right questions can help you better understand dental implant prices. Also, if you have dental insurance, some of these costs may be covered under your dental policy; in fact, some insurance plans cover as much as 50% of the dental implant cost.
Affordable dental implants are possible, especially with dental insurance, so there is no need to go another day without a beautiful smile. If you been considering a dental bridge or other dental appliances, you should know that dental implants are not that much more expensive. Also, unlike other restorative dental options, implants look and feel like your own natural teeth.