A menstrual cup is a feminine hygiene product that women use during their menstruation cycles. The cup is inserted into a woman's vagina with the intent of it being used to "catch" menstrual blood and prevent it from leaking. Menstrual cups are typically made with flexible silicone in the shape of a bell cup. This cup seals to the vaginal wall once inserted just below the cervix. It collects the menstrual blood and is emptied, rinsed clean, and reinserted during a woman's menstrual cycle. Those who use menstrual cups are generally able to go 10 to 12 hour without needing to empty it. If the cup is correctly inserted, it should protect against any leaks and those using one should not experience any type of discomfort.
When these types of cups were first created in the 1930s they were made of rubber material, but they were far from successful. In 1987 a cup called The Keeper was manufactured in the United States and it paved the way for commercial success. Still though, despite how many companies offer a version of the menstrual cup, surprisingly few people know of or use them. The majority of menstrual*cups were made as reusable cups which allows them to be used not only through a cycle but also for every menstrual cycle that follows. Typically it is recommended to replace them every five to ten years, unless it is evident that replacement is necessary sooner. Some menstrual cups, however were made with the expectation of disposed of after one single use.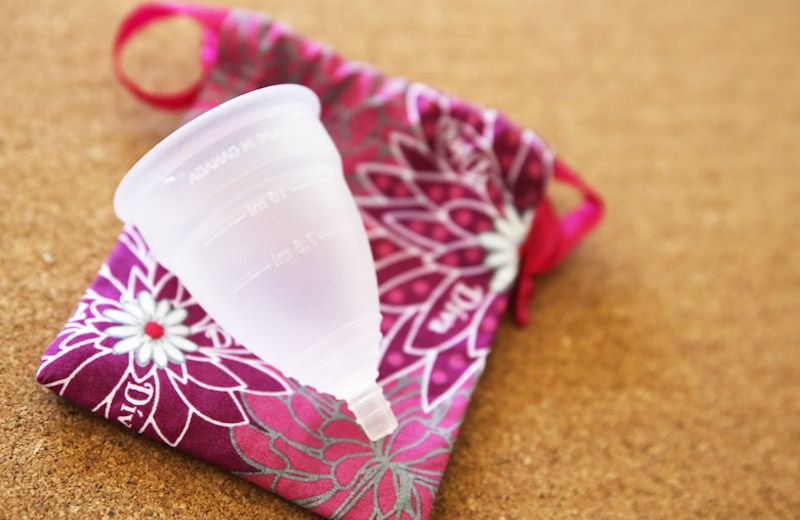 1. Better Hygiene
When it comes to having a period, many women associate it with having a heavy flow. More often than not, this results in some type of leakage. For really unlucky women, underwear, pants, and even bedsheets end up staying with blood. Every woman has experience there. With the use of a cup there truly is no odor to be embarrassed about it. There is no need to worry about bulky pads, double checking for tell tale stains, or even the need to worry about finding a bathroom every few hours or less. With the longer times between needing to "change" any feminine products, women have a higher chance of being able to truly just put the cup in and forget about it. Using a menstrual cup allows for less blood transfer to clean up anytime a woman uses the bathroom.
[/nextpage] [nextpage title="Next" ]
2. Lower Cost
Using a cup is a huge money saver for many. Estimates show that most women spend $120 each year on pads and/or tampons. A reusable menstrual cup will often have a higher up front cost but as time goes on, it becomes a worthwhile purchase as these cups are able to be used for 5 to 10 years. $120 a year for anywhere from thirty to fifty years adds up to be quite a bit of money spent.
[/nextpage] [nextpage title="Next" ]
3. Less Irritation
Hormonal changes are pretty common during a woman's menstrual cycle. The estrogen drop when a period first starts can come with many side effects. One of which is the feeling of dryness in the vaginal area. This could more often than not lead to irritation. Using a cup can fix this in that rather than using a product made of cotton, a cup made of silicone is used. And silicone is less likely to feel "stuck" to dry vaginal walls. Also, emptying the cup would happen less than changing out a tampon, which helps to lessen the pain of irritation by constantly taking out or putting in a tampon.
[/nextpage] [nextpage title="Next" ]
4. No Toxic Shock
Toxic Shock Syndrome, also referred to as TSS, is an infection that is the result of staph bacteria. Tampon use is often associated with TSS due to how long some women leave a tampon in without changing it out during their period. While tampon use is far from the only cause of this infection, it is still one to be cautious with as it can become a truly serious health issue. Using a cup rather than a tampon can help to lessen the risk of Toxic Shock Syndrome and the serious health issues that's come along side it.
[/nextpage] [nextpage title="Next" ]
5. Better for Vaginal Health
Using other forms of feminine products can affect the balance of good bacteria and pH found in the vaginal area when they absorb vaginal fluid along with menstrual blood. This can leave a woman more susceptible to infection. These cups do not affect vaginal fluid or change the health in a way that could result in these types of often serious infections.
[/nextpage] [nextpage title="Next" ]
6. No Harmful Chemicals
Pads and tampons contain numerous chemicals and unknown ingredients within them. Because the FDA does not require that manufactures list ingredients, it is often difficult to determine what exactly is used to make these feminine products. Menstrual cup manufacturers put it all out there, showing exactly what their products are made of as a way to show how safe these no chemical options truly can be. Menstrual cups have a variety of benefits aside from the ones listed above.
Many chose to use these cups because they feel it is a safe alternative as described by the 6 advantages above. Others use a cup because it is a more environmentally friendly option compared to pads or tampons left behind in land fills. Some make the decision due to comfort. No matter what the reasoning, one thing is clear. Menstrual cups are an up and coming choice that many choose when it comes to feminine products.
[/nextpage]
[nextpage title="Next" ]