Irritable bowel syndrome, or IBS, is a fairly common intestinal complaint. If you've been dealing with abdominal pain, diarrhea, constipation, cramping, bloating, or excessive gas, you might be one of the twenty percent of the population that suffers from IBS. Women are more likely to experience this condition than men, and it is more likely to surface among those who are under age 50. Other risk factors include having a mental illness, or having a family history of IBS.
Doctors aren't sure what causes this condition, but there are several theories out there. Irregular muscle contractions in the large intestine may be a cause, as too strong a contraction can cause gas and bloating, while too weak a contraction may cause constipation. Another theory is that it may be an autoimmune reaction. An immune system reaction in the large intestine may cause the pain associated with the syndrome.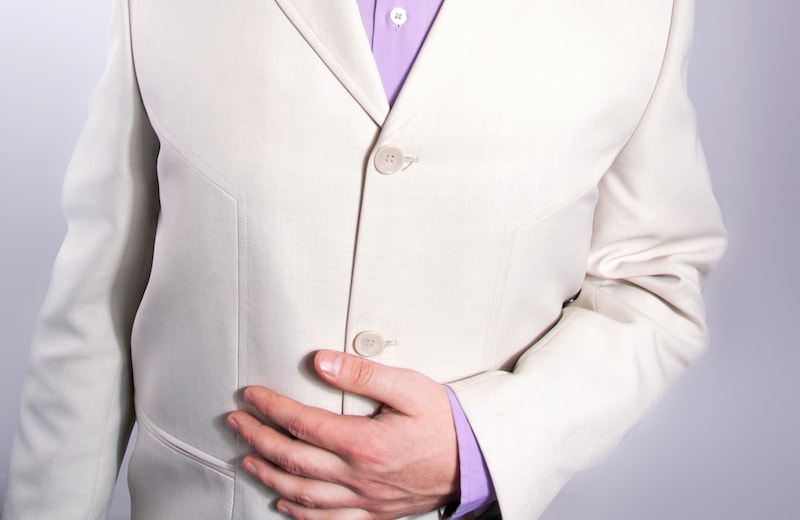 1. Broccoli
For many, the first word that comes to mind when you think of broccoli is 'healthy.' For the generally healthy, this veggie is an excellent choice, full of essential vitamins. However, for IBS sufferers, it tops the list of foods to avoid. Cruciferous vegetables — a group which also includes cauliflower, kale, and turnips– are some of the worst offenders when it comes to intestinal pain. These trigger foods tend to cause an increase in intensity and duration of IBS symptoms. This is due to their high fiber content.
While doctors recommend eating a lot of fiber to combat IBS, not all fiber is created equal. The fiber found in broccoli and cauliflower is insoluble, which makes it difficult to digest. This causes the intestines to work over time, creating excess gas and leading to bloating and pain. It can even cause or worsen diarrhea.
[/nextpage] [nextpage title="Next" ]
2. Cabbage
Cabbage is another member of the cruciferous vegetable family, and like its cousin broccoli, frequently causes problems among those with irritable bowel syndrome. While cabbage's main offense is the high insoluble fiber content, another side effect is its ability to cause inflammation. Many people struggle to digest cabbage, and the hard work the digestive system has to put in to break down the fiber can cause irritation and inflammation in the lining of the stomach and intestines. This inflammation is felt as abdominal pain. When you add that to the excess gas and bloating caused by the fiber itself, cabbage is definitely a veggie to avoid.
[/nextpage] [nextpage title="Next" ]
3. Green Peppers
Bell peppers are difficult to digest for many, and green bell peppers are reported as the most difficult of the group. Green peppers are the unripe version of red peppers, which is why some IBS sufferers find that they can manage red pepper, while green ones seem to trigger their symptoms. Cooking the peppers before eating can decrease the intensity of the symptoms, but beware of serving even cooked green peppers with heavy food. The longer the food takes to digest, the longer the peppers will remain in your stomach, and the more likely you are to have an adverse reaction.
[/nextpage] [nextpage title="Next" ]
4. Corn
Delicious, buttery corn on the cob can be a disaster in waiting if you have IBS. Due to the high levels of insoluble fiber, corn can prove difficult to digest, creating all of the same symptoms as broccoli or cauliflower. Corn also has high sugar content, which is another trigger for IBS issues. One of the many theories floating around about IBS causation is the idea of small intestine bacterial overgrowth. SIBO, as it's called, is having too much bacteria in your gut. Eating food with high sugar levels feeds the bacteria, causing them to multiply and make the issue worse. The sugar content of this food means that it's a perfect trigger for anyone whose IBS is caused by SIBO.
[/nextpage] [nextpage title="Next" ]
5. Beans
As beans can create excess gas in people without any health issues, it should be no surprise that they made the list of foods for IBS patients to avoid. Whether kidney beans, chickpeas, or soybeans, beans contain large quantities of saccharides that the body can't digest. As with insoluble fiber, these saccharides make the digestive system work overtime, causing inflammation, gas, bloating, and increasing the intensity of diarrhea. Cooked beans contain similar saccharide levels to raw ones, making this a food doctors recommend avoiding in all its forms. Some ideas for substitutions include rice, quinoa, tapioca, or oats.
[/nextpage] [nextpage title="Next" ]
6. Butter
This food is a frequent offender due to its high lactose content. Lactose is the sugar found in milk products, and, as with corn, this sugar can cause an overgrowth of bacteria, leading to SIBO and IBS symptoms. Another complication is butter's fat levels. Fat is yet another trigger for bloating and diarrhea, and butter has it large supply. Doctors recommend switching out butter in cooking for healthier oils, such as olive or coconut. Spreads made of greek yogurt are a promising alternative, although some sufferers still report issues. Greek yogurt itself makes an excellent substitute in baking, as do olive oil and applesauce.
[/nextpage] [nextpage title="Next" ]
7. Cheese
Like butter, cheese contains lactose and fat, making it a strong trigger for symptoms. This particularly applies to soft options, like cottage cheese, ricotta, cream cheese, or mascarpone. These varieties are not aged, a process which breaks down the lactose inside, so they have extremely high lactose content. Hard cheeses are typically aged, so choices like cheddar, havarti, parmesan, or swiss are safe for many. There are a few soft options that are aged – brie and camembert – so be sure to check labels. Just take a look at the sugar content on the Nutrition Facts. If it's high, avoid the product. If it's low (1 gram or less), you might consider giving it a try.
[/nextpage] [nextpage title="Next" ]
8. Milk
Milk is an extremely common trigger food, but happily it has many alternatives. The issue with this food is two-fold: fat and lactose. Some people are only triggered by only one of those, so fat-free or lactose-free products may be an option. If those options don't work, avoiding dairy entirely is actually very easy in this day and age. Soy, rice, nut, and coconut milk are all options, and various forms of vegan yogurts and other products may be something to try. If you do choose to completely cut out dairy, check with your doctor to see if you will need to take a calcium supplement.
[/nextpage] [nextpage title="Next" ]
9. Cream
Cream contains lactose, as do all dairy products, but it also has an extremely high fat content. As we've seen, fat and lactose together are not the best idea for those with IBS. Further, this food typically contains whey and casein, two proteins found in dairy. These proteins are difficult to digest, and can cause inflammation and irritation in the gut. This, along with the lactose sugars, can lead to intense abdominal pain, gas, bloating, and diarrhea. Cream is definitely a food IBS patients will want to avoid. Alternatives to this food include coconut cream, or mixing a milk alternative (rice, nut, or soy) with olive oil.
[/nextpage]
[nextpage title="Next" ]